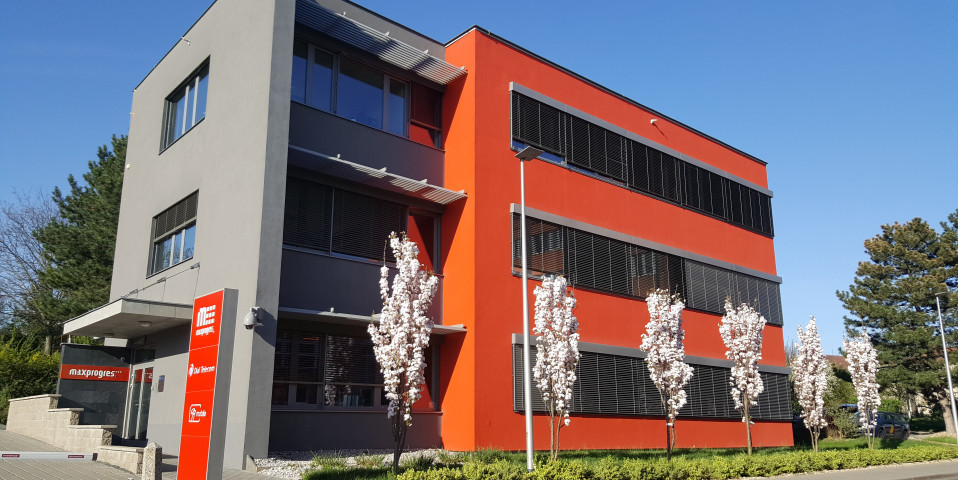 Information
MaxPlace, s.r.o. is located in a quiet and safe area of ​​Brno - Bohunice / H. Heršpice, near the D1 motorway exit (EXIT 194), from where it is possible to connect to the motorway and road network in the direction of Prague, Bratislava, Ostrava, Svitavy, Vienna, etc. Accessibility to the center Brno is very good, both by public transport about 10 minutes (direct tram connections) and by car (Vídeňská, Heršpická, etc.) about 4 minutes.
Description
In connection with the lease, the landlord provides the tenant with basic services, namely heating, cleaning, including common areas, ensuring the right of entry and entry into the building, security of the building, removal of common solid waste, cleaning of paved handling areas, including winter maintenance.
Maintenance of the entire complex is provided 24 hours a day.
Cleaning in the area is provided from 5:00 to 10:00.
Catering is provided by the dining room and canteen in the neighboring area of ​​DOTEC, a.s. with operation from 8:00 am to 3:30 pm. The menu includes 6 daily lunch menus and a common range of breakfasts and snacks (drinks, delicacies, confectionery, pastries, etc.).
Other highly above-standard services for tenants can be agreed upon in person.
The staff of MaxPlace, s.r.o. is ready to meet even the most demanding requirements of tenants, or to provide them with a supplier.
Do not hesitate to contact us at any time if you are interested. We are available to you from 7 am to 5 pm at Traťová 4, 619 00 Brno.